More stuff under the cut. And
causette I GOT IT!!!!!!!! Thank you!!!!!!! *squishes*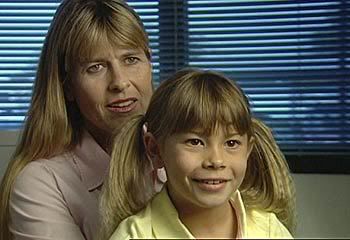 TERRI Irwin plans to take over as host of The Crocodile Hunter TV series with daughter Bindi as her co-host.

http://www.news.com.au/heraldsun/story/0,21985,20600113-2902,00.html

Good article about Steve and his friends and family: http://www.smh.com.au/news/national/the-show-must-go-on-at-irwin-inc/2006/10/15/1160850814521.html

[EDIT] Yahoo group: http://tv.groups.yahoo.com/group/A_Crocodile_Hunter_Support_Group/


And because I couldn't resist:




hazyshade and
causette

FOUR JOBS I HAVE HAD IN MY LIFE:
1. Office Manager
2. Operations Manager
3. Executive Secretary
4. Administrative assistant

FOUR MOVIES I WOULD WATCH OVER AND OVER:
1. Elizabethtown (anyone shocked here?)
2. PotC
3. Kingdom of Heaven (sensing a theme here?)
4. LotR

FOUR PLACES I HAVE LIVED:
1. Lexington, KY
2. West Palm Beach, FL
3. Boynton Beach, FL
4. Louisville, KY

FOUR TV SHOWS I LOVE TO WATCH:
(am only counting currently airing shows, because i love so many :P)
1. Girlmore Girls
2. Supernatural
3. Grey's Anatomy
4. Veronica Mars

FOUR PLACES I HAVE BEEN ON VACATION:
(will restrict to cities!)
1. Puerto Rico
2. Los Angeles
3. New Orleans, LA
4. Washington, DC

FOUR WEBSITES I VISIT DAILY:
1. LiveJournal
2. I don't get around much
3. OLove
4. Metro Lyrics

FOUR OF MY FAVORITE FOODS:
1. Homemade chili
2. Fettuccini Alfredo
3. Red Velvet Cake
4. Chocolate mint ice cream

FOUR PLACES I WOULD RATHER BE RIGHT NOW:
1. Where ever Orlando Bloom is. ;)
2. Where ever Viggo is.;)
3. Cave Hill Cemetery
4. Los Angeles

FOUR FRIENDS I THINK WILL RESPOND:
1. I
2. really
3. don't
4. know




What do the LOTR men think of you? (girls only, guys...if your really bored then go ahead)


Aragorn: Thinks you are mysterious, yet a wonderful, lovely lady.Legolas: Is enchanted by you. He wants to spend the rest of his life by your side, protecting and loving you, forever mystified by your beauty and kindness.Gimli: Secretly has a thing for you, but would never disclose it, because he can't have anyone thinking he and the elf agree on something.Boromir: Hates you immensly, thinking you are way too mysterious and as such, must be hiding something.Faramir: Has very little opinion on you, apart from the fact he thinks you could be a better bowman if you tried.Frodo: Is scared of youSam: Is intimidated by you, yet thinks you are lovelyPippin: Is terrified to even speak to youMerry: Tries to impress you with his 'intellect' in hope you will leave legolas for him.Theoden: Doesn't trust you, and keeps a wary eye on youEomer: Feels the same way as his uncle, but can't deny he thinks you're interesting.Elrond: Loves you like a second daughter.Gandalf: Thinks you are sweet.Gollum: Fears you are plotting to steal his Ring away from him.
Take this quiz!









Quizilla |
Join

| Make A Quiz | More Quizzes | Grab Code




Bored yet? LOL