...the trailer commercial for "The Bucket List"?
The first shot with music? The music is from "Elizabethtown"! I'm betting the track is't in the movie--just the trailer, but I still think it's cool. I'll take my E-town moments wherever I can get them. ;)
And just because...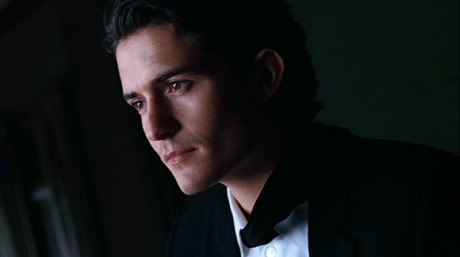 Anyway, some mushy things I need to say
First of all, hope everyone has a wonderfful holiday and special love to
wav
,
maubast
,
cyclonicblast
and
jenlynn820
just because you guys are the most special people in my life! Thanks for listening to me whine and bitch and moan over everything from minor to major stuff, as well as sharing in the good stuff and putting up with my Orlando obsession. You all deserve way more than you could ever possibly imagine and I feel very lucky to have all of you in my life.
Special love and affection to:
jjjean65
,
grey853
,
the_tim_world
,
causette
,
tiniowien
,
ames1010
,
eruberueth
,
viggosterri
,
peppervl
,
sileya
,
sakurazukalori
,
monicaop
,
harukameko
,
lucilla27
,
beautiful_hooch
,
nikitas_lair
,
sileya
and
katlinn
, cause I can remember that for one reason or another, you need to feel that you're loved and cared for as well as appreciated. *hugs* And if I've left anyone out, (and knowing my brain, I'm sure I have) just know you *are* cared for and are wished all the happiness in the world, regardless of the season. And that goes for everyone on my flist! There's so many people I just generally feel affection for that it would take me forever to list everyone, like,
bluespirit_star
(can you believe it's been like 10 years now--damn, I feel old! LOL,
padabee
and
pokecharm
(I could type your usernames in my sleep since I type it so many times each week for you winning/placing so much with all your beautiful work!) and the list just goes on and on. But even if I didn't name each one individually, you are all in my heart.
And a quick note to a couple of people I really care about but don't hear from very often--I miss you and would like to hear more from you in the next year.
mimseygreenleaf
(but I got your card--thank you),
katlinn
,
squishypiglet
, and
belladonnaslair
I really miss hearing from you guys on a regular basis. You too,
elflady_2001
and
serein_03
. *hugs*
I wanted to also say a quick thanks to everyone who sent me cards/gifts:
hammill77
(it's sitting right in front of me grinning--both of them!),
veronice_rich
(I got it today! SQUEEEEEE THANK YOU! Will Turner can ferry me anywhere he wants to. ROWR!!!!!),
jjjean65
(I got yours today too and that poster is AMAZING!!!!! I've never seen that one before!! OMG--thank you sooo much!!!!),
sibelle_art
(Thank you sooo much for that book and postcard! I can't stop staring at teh pretteh!),
grey853
(thank you sooo much for that amazing tin! And for bendable Will Turner! Both are on my desk and I LOVE THEM!!),
mirkwoodelfchic
,
mrs_erupt
and everyone else who sent me cards! I know I have an Orlando one in the other room as well as about 6 more, but I've already been sitting here doing this for over a half an hour and I think my brain is now fried from overload. LOL But I appreciate all the cards, personal notes, confetti, E-town references, Orlando mentions and genuine love and support. *hugs* They are all up and on display so the few people who *do* stop by get to see them.
I hope you all gave a very Happy Holidays and a happy, healthy and prosperous new year.
Oh--and go vote if you haven't. LOL HEY--it's Monday! You guys didn't think I'd let that slide, did you?!? ;)
VOTING:
(both are open until 7 pm est. tonight)
VOTE HERE-VigOrli Stills
VOTE HERE-PotC Challenge
Tags: christmas, elizabethtown, flist